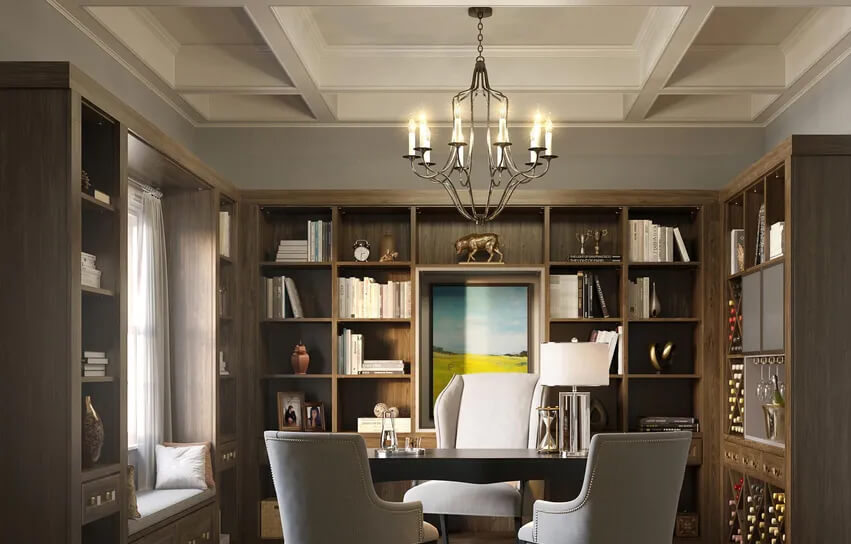 Working from home over the last year or so has become the norm for so many of us and it looks like this is set to continue for a while yet, and perhaps it will remain and become the norm for many people. How many homes are set up for such a change? Now, maybe more than ever, we should be considering our working from home spaces and ensuring they are the best they can be.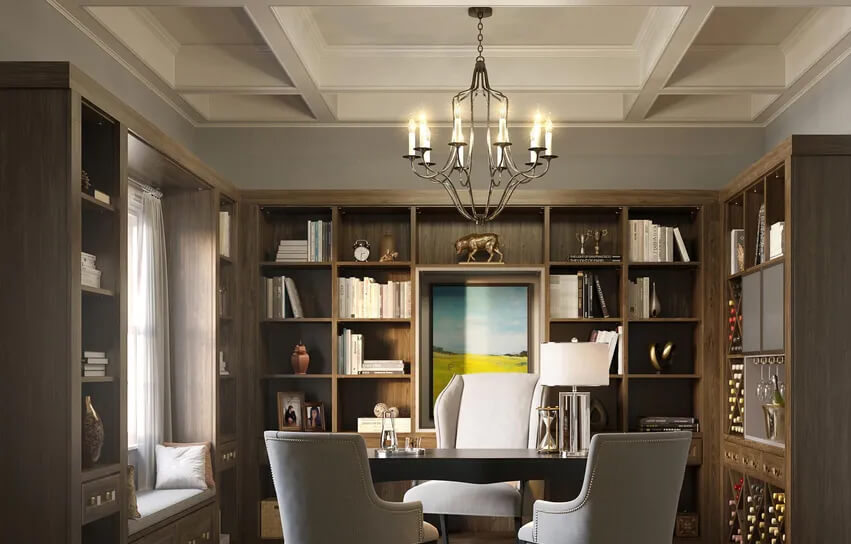 One of the positives many organisations and companies have had to embrace is that it is possible for employees and businesses to continue to work well, and in many cases flourish, when the flexibility of working from home is introduced, albeit for many, this has been a not negotiable option due to lockdowns.
So focussing on the positive elements of somewhat challenging circumstances, we wanted to share some ideas and give some pointers to consider when re-arranging or designing a space that will serve as a home office.
Location
Some people will be fortunate and have a study in their home, for others there may be plenty of space to utilise and create an office that does not impact on day to day living, and for some, this may be a much harder goal to achieve.
It is not just the space that is important for a home office or workspace. Location, lighting, comfort and the impact on the surroundings and the people who share the home with you are all elements you need to think about.
If you simply put a table up against a free wall are you going to get the most out of your day working from there? How productive are you going to be and how are you going to feel at the end of the day?
Not being distracted while working leads to better productivity but while at home, especially during lockdown and for those with families and little ones around, this is going to be difficult.
If at all possible, avoid making your bedroom your office – while it may be tempting to tuck away the workspace in a room that is away from the day to day bustle of family life, the bedroom should remain a place for rest and relaxation and for most of us, staring at a monitor or a pile of work related items at the end of the work day is not conducive to relaxation or a restful sleep. Of course if there is no other option than in the bedroom, being creative and finding practical ways to define two separate areas can help – this can be as simple as creating or placing a divider to hide away the work area when it's time to use the space as a bedroom. Some cleverly designed furniture also provides a combi option of bedroom and living or working space, so it is something to consider and can be a good solution if living in a studio, where there are no additional rooms to create a separate work space.

Clever use of space
So, what if you do have other rooms that you can create an area to work from home in? What are your options and how can we diversify the spaces in your home with some clever lateral thinking….

Somewhere that is quite often utilised for bookshelves or storage units is the alcoves either side of a chimney breast. This could be a great opportunity to maintain some storage but can also incorporate an area to work from that is clearly defined but complements the aesthetic of your living room, even when you're not working. It can also double up as a study space if and when needed.

If you've looked on any social media platform there are endless images of clever under stairs storage, which is great – who doesn't need storage? But as we are becoming more aware of the importance of living a less cluttered life, sometimes less is more and if we can bear to part with shoes and coats we haven't worn for years, boxes we haven't looked in for ages and all the other things we tend to shove under the stairs, it's worth considering converting under the stairs to accommodate a desk.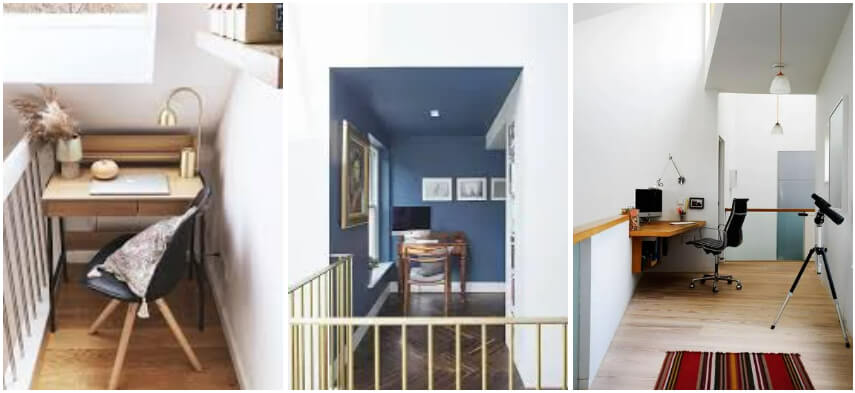 Equally, landings can sometimes be overlooked as practical spaces and may offer an opportunity to position a desk – just always ensure you've carried out a safety assessment to avoid any accidents, particularly in the smallest of landing spaces!

If space is tight then the simplest of fold down desks could be perfect to allow you to have a place to call your office. The great thing about these is that they do not take up much room and can be positioned in so many different locations to optimise the best working environment for you. These could also be a great option for home study desks.
Lighting
A workspace should be as positive as possible. Natural light is very important especially when the sun is shining – it makes most of us smile! If this is not an option, then a well-lit area with neutral light is best. Ideally your work space should be light and bright to avoid eye fatigue, improve productivity and mood. Avoid staring at a blank wall – where there isn't a window, perhaps add art, colour, shelving or anything that will make you smile.

Sometimes less is more
When creating your home office, you do not have to throw everything at it. A lot of the time less is more. A station to hold the computer and enough space for a comfortable chair could be all you need.
Having said that, if you are lucky enough to have the space why not make it something special?

Make it personal to you and comfortable
Think about what it is that you need to make you feel good when you are working. What helps you concentrate and focus on the work you need to do? Aside from the obvious practical elements of a work space, what would make you smile? It could be a table lamp you'd had your eye on that you finally snapped up on an online sale, some music to break the constant tapping on the keyboard, a small vase of flowers or your favourite stapler that has travelled to every desk you've ever worked at. It can be anything, it can be nothing – the minimalist in you might like clean clutter free lines – whatever your preference, customise your work space to make it inviting to you, somewhere you want to be.
Importantly, don't forget that posture and comfort are key factors to consider when working from home, particularly when sitting for several hours a day – always keep in mind the health and safety element of sitting at a desk and the practical advantages of a good seat and warm and comfortable working space – there are lots of tips and guidance available on line including on the Government's Health and Safety Executive pages https://www.hse.gov.uk/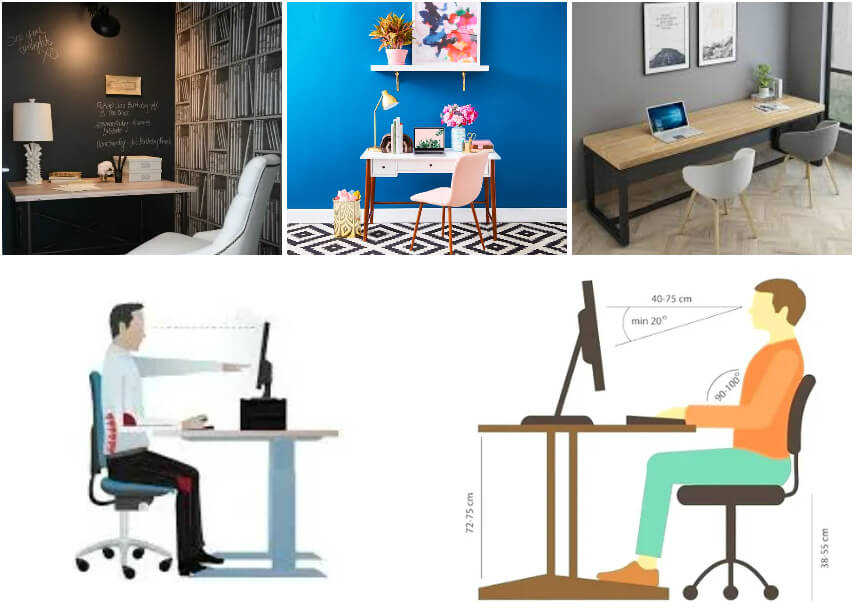 Plants and Greenery
Some people firmly believe plants increase productivity and may help offset air pollutants like VOC's (volatile organic compounds) that can come from building materials, furniture and electrical equipment. Which plants are best? Well aside from personal taste and seasons, you can get some tips on line, like at Ecowatch https://www.ecowatch.com/20-plants-that-improve-air-quality-in-your-home-1938383954.html . Whatever you decide to go for, embrace the green in your home office and if keeping plants alive isn't your strongpoint, go for faux plants or the very popular pampas grasses just – because they look good.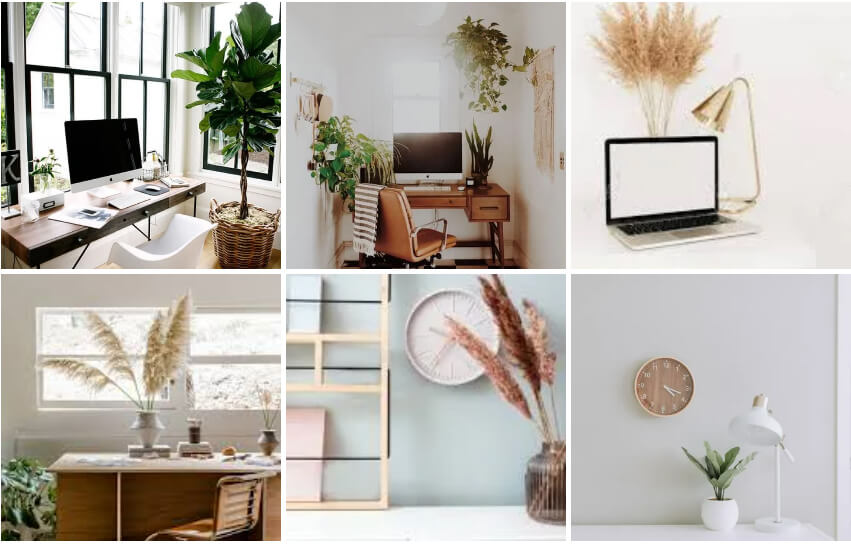 There are so many more ideas and considerations to help with planning and creating a home office, whether it's a temporary or a long term space and if you need some help to develop your ideas and turn them into your ideal working from home office, we'd be delighted to hear from you and offer practical, affordable and aesthetically pleasing solutions for your home.
For a no obligation virtual meeting or phone chat, just reach out to us – we're working from home too!